Govt services to be available through mobile app in Maharashtra: CM Fadnavis
.
Maharashtra Chief Minister DevendraFadnavis announced that all government services will be made available through mobile app in the state and said that the people will get the feeling of his secretariat in their mobile.
He was addressing the main Independence Day function after unfurling the national flag at Mantralaya in Mumbai.
He greeted the people of Maharashtra and saluted the martyrs of the freedom struggle. He said, today is the day of resolution and presented the brief picture of the achievements of his government during last 22 months.
He said, his government has provided assistance of 9000 crore rupees to the farmers during last two years to face drought related crisis.
He added that the government managed to make 4000 villages drought-free with the help of JalayuktaShivarAbhiyan.
He expressed confidence to make 2000 more villages drought free during this year.
Sikkim govt commitment to total literacy by 2019: CM Chamling
In Sikkim, the people celebrated 70th Independence Day in grand manner. The Medals and state Meritorious Service Awards have also been conferred during a state level function in Gangtok today.
The Chief Minister, Pawan Chamling has unfurled the National tricolour at Palzor Stadium and took salute of jawans from Sikkim police and other paramilitary forces on the occasion.
He also reiterated his government commitment to declare Sikkim a total literate state by the year 2019.
Mr. Chamling in his speech termed Sikkim as an exemplary state for promoting secularism in true sense and claimed that every religion, faith and belief is protected here.
PM announces 20% hike in freedom fighters' pension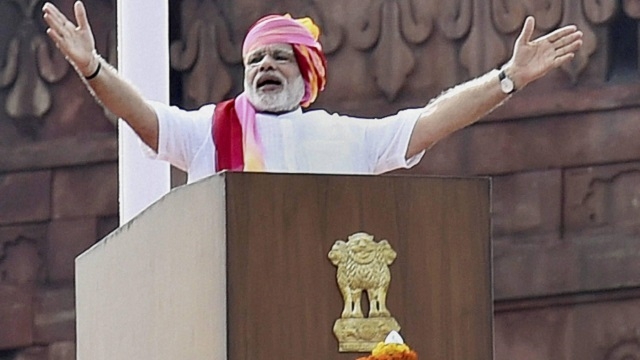 Addressing the nation on the occasion of India's 70th Independence Day, Prime Minister NarendraModi announced a 20% increase in the pension of freedom fighters.
He also announced that the Government of India will bear medical expenses of 1 lakh for poor families. Modi said the government has also delivered on the promise of One Rank One Pension (OROP).
Obama declares emergency for flooded Louisiana
US President Barack Obama issued a disaster declaration for flood-devastated Louisiana. White House said, emergency workers have rescued more than 7,000 residents stranded in homes and cars.
Officials said, the action makes emergency federal funding available to support rescue crews working nonstop as deadly flooding ravages the state, disastrous weather that has left at least three dead and one missing.
The flooding submerged large parts of the region on Sunday, three days after water-swelled streams and rivers began rising. Local, state and national agencies have been working together to rescue residents.