25 June: Day of the Seafarer
The Day of the Seafarer is being observed on 25 June every year as an expression of thanks to the seafarers for their contribution
to the economy and civil society of the world. The observance of the day also acknowledges the risks and personal costs endured by seafarers while being in their jobs. 2016 Theme: "At Sea For All". It highlights that seafarers serve at sea not just for their own career or for the shipping industry or but for all of us. The theme has a clear link with the 2016 World Maritime Day (WMD) theme, "Shipping: indispensable to the world".
ADB approves $500 million loan for bridge over Ganga River in Bihar
The Asian Development Bank (ADB) has approved a 500 million dollars loan to build a bridge across the Ganga River in Bihar. The loan funds will be used to build 9.8 km road bridge in Bihar on the Ganga River. On completion of the project it will be the India's longest river bridge.
Key Facts
The new river bridge will provide a vital transport link between the northern and southern parts of the state and neighbouring Nepal.

It will make it easier for people to move between jobs and markets, particularly for poorer communities in the north of Bihar to the south of the river.

In all, the bridge is expected to benefit over nine million people as it is going to serve as an alternate route to the existing Ganga bridge, which has begun to deteriorate.

The length and height of the bridge has been designed to minimize impacts on the river itself.

The design parameters of the bridge will also ensure that it is able to withstand climate-related stresses such as a rise in the water level.
Sri Lankan Parliament unanimously passes Right to Information bill
The RTI bill seeks to give citizens access to public information which is in the possession, custody or control of a public authority.
Key Features of the bill
The bill envisages setting up a 5 member RTI Commission and the appointment of information officers in every public authority to assist citizens who wish to obtain information.

Under it ambit it is mandatory for public authority to duly catalogue, indexed and preserved all public records.

Public authorities will also be required to preserve all their records in electronic format subject to the availability of resources.

However, the bill has kept personal data, national security information, financial and commercial policy decisions, intellectual property and medical reports out of its ambit.
Sprinter Dutee Chand qualifies for 2016 Rio Olympics
Indian sprinter Dutee Chand has qualified for 2016 Rio Olympics in the women's 100metre event scheduled to be held in August 2016 in Rio de Janeiro, Brazil. Dutee qualified for the Rio Olympics after meeting the qualification mark at 26th International Meeting G.Kosanov Memorial in Almaty, Kazakhstan. In this event, she clocked 11.30 seconds beating the Rio Olympics qualification mark of 11.32 secs.
With this, she became the first Indian woman sprinter to qualify for the event since qualification started for the event. PT Usha had qualified for the event in 1980 Olympics.
In the 26th International Meeting G.Kosanov Memorial, Kazakhstan's Viktoriya Zyabkinawon won the race with personal best performance of 11.15s.



Nepal bans citizens from working in Afghanistan, Iraq, Syria and Libya
· Nepal banned its citizens from working in strife-torn Afghanistan, Iraq, Syria and Libya.
· The decision was made at a cabinet meet after 13 Nepali security guards were killed in a Taliban suicide bombing in Kabul.
· Nepali nationals killed in Afghanistan were employed as security guards in the Canadian embassy in Kabul.
· They were killed when militants exploded a bomb in a minibus on 20 June 2016.
Government to observe NPS Service Fortnight from June 27 to July 9
· With a view to create awareness about the National Pension System, NPS, and improve subscriber interface, Finance Ministry has decided to observe NPS Service Fortnight from June 27 to July 9 by all the functionaries in the NPS value chain.
· Finance Ministry in a release said these entities would include Points of Presence and the Central Record keeping Agency across the country.
· This fortnight-long campaign is aimed at awareness creation, service orientation and information dissemination along with subscribers registration.
· The NPS was made available to persons in the private and unorganized sector since May 2009.
· Currently, the total number of subscribers under NPS and APY together has reached 12.86 million and AUM is more than Rs. 120,000 Crore.
PM Narendra Modi launches Smart city Mission Projects in Pune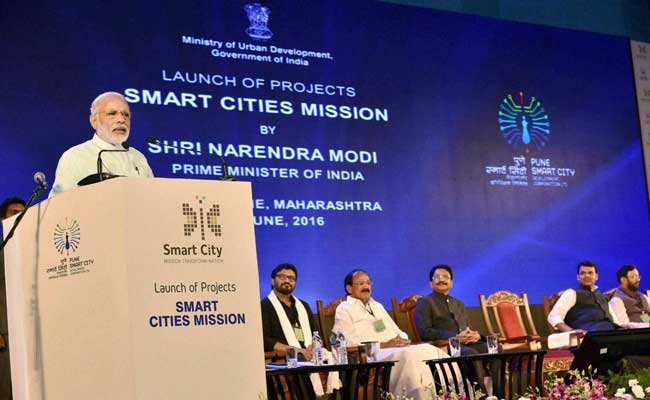 Prime Minister Narendra Modi launched the 'Smart City Mission' involving 83 projects from 20 different cities in the country. The ambitious mission of Union Government was launched at function held at Pune's Shiv Chhatrapati Sports Complex one year after it was announced. Speaking at the launching function PM Narendra Modi asked people not to think urbanization as a problem but an opportunity. He also stated that cities can fight poverty and it is necessary to strengthen their capacity to fight the poverty.
Key Facts
The Smart City Mission' projects launched included 14 projects of Pune (Maharashtra) and 69 projects from 20 different shortlisted cities in the country to be implemented at a cost of 1,770 crore rupees.
These projects are related to water supply projects, sewage treatment plants, solid waste management under Swachh Bharat Mission and development of green and open spaces under Atal Mission for Rejuvenation and Urban Transformation (AMRUT).
It also includes housing projects for urban poor under Pradhan Mantri Awas Yojana (PMAY) and area development and technology based pan-city solutions under Smart Cities Mission.
PM Modi also inaugurated 'Make Your City SMART' contest, aimed at involving citizens' participation in designing smart cities.
'Smart Net Portal' was also inaugurated by PM Modi. The portal enables the cities under different urban missions to share solutions and ideas for various issues during the implementation of various missions.