Vijay Kumar Choudhary appointed as Speaker of Bihar Legislative Assembly
Vijay Kumar Choudhary

appointed as Speaker of Bihar Legislative Assembly on

01st December 2015.

He is senior leader of Janta Dal United (JDU).
Goa Government launches National Food Security Act, 2013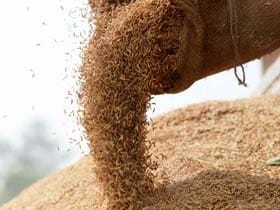 Goa Government has launched the National Food Security Act (NFSA), 2013 to benefit more than one third of the state's population.
It will bring more than one third population of the coastal state into legal entitlements of existing food security programmes and schemes of Central Government.
Key facts
Around

5 lakh 11

thousand persons in the targeted Public Distribution System (PDS) in Goa will receive 5 kgs subsidised rice or wheat per person per month.

Rice will be given at the subsidised rate of 3 rupees per kg and wheat at the rate of 3 rupees per kg to target persons.

For effective implementation of this scheme, state government's civil supplies and distribution departments have scrutinised the PDS households.

They also have digitised the ration cards and updated the consolidated data with

Aadhar card

and other identifications prior to launching the scheme for implementation of NFS Act.
For the implementation of the scheme, Union government will bear a subsidy of 65 crores rupees, while the state government will spend 25 crores annually.
Background
National Food Security Act, 2013 envisages adequate quantity of quality food at affordable prices to people to live a life of dignity under Article 21 of Constitution. It includes the Midday Meal (MDM) Scheme, Integrated Child Development Services (ICDS) scheme and Public Distribution System (PDS) under it to provide subsidized food grains.
Union Cabinet approves pacts with Germany for solar energy
The Union Cabinet has approved an agreement with Germany to expand bilateral cooperation in the field of solar energy between both countries.
In this regard, Union Cabinet has approved a MoU which was signed in October 2015 between both countries during
Chancellor Angela Merkel's visit to India
.
It was signed to expand bilateral development cooperation in the field of Solar Energy by increasing use of solar energy through technical and financial cooperation in India.
Germany will provide concessional loans to India in the range of 1 billion Euros over the next five years i.e. till 2020.
Concessional loans will be provided through Kreditanstalt fur Wiederaufbau (KfW), a German government-owned development bank.
The loan funds of KfW will be also utilized for providing soft loans to the end-users through partner banks.
The bilateral cooperation between the two countries will help India meet some part of its ambitious target generating 100 GW solar power generation capacity under the National Solar Mission (NSM) by 2022.
MoU for Capital Goods Sector
Union Cabinet also has approved MoU between India and Germany which has been signed for implementation of Make in India campaign for Capital Goods Sector.
It was signed between Department of Heavy Industries and Germany's Fraunhofer Gesellschaft which is a leading organisation in Europe for applied industrial research.
The objective of MoU is to provide platform to various PSUs and capital goods sector units in order to have easy access to capabilities and expertise of Fraunhofer. It would help for identifying and plugging technology gaps in Indian PSUs in line with 12th Five Year Plan.
Government gives nod to MoU between India and Israel in the field of water resources
The Union Cabinet has given its approval for signing MoU between
India and Israel
in the field of water resources management and development cooperation.
The bilateral cooperation between both countries will benefit them in strengthening the techniques in efficient use of water, micro-irrigation.
It would also help them in recycling and re-use of waste water, aquifer recharge, desalination and in-situ water conservation techniques.
Both countries will form a joint working group to monitor the activities to be carried out for the fulfilment of provisions mentioned in the MoU.
Israel which is one of arid country in West Asia has pioneered different water conservation and water management techniques to overcome the issue of water scarcity. Its pioneering techniques include efficiency use of water, micro-irrigation, reuse of waste water, desalination, aquifer recharge etc.
The Union Ministry of Water Resources, River Development and Ganga Rejuvenation has envisaged bilateral cooperation route with other countries in the field water resources development and management through sharing of policy and technical expertise.
India already has entered into agreements in this regard with countries like
Australia, China, Bahrain Cambodia, Rwanda, Iran, Fiji and Iraq for water resources management and development cooperation
Veteran industrialist MAM Ramaswamy passes away
Veteran industrialist and former parliamentarian MAM
Ramaswamy
passed away in Chennai, Tamil Nadu. He was 84.
He was the last King of Chettinad and co-founder and past chairman of the Rs. 10,000 crore Chettinad Group of companies.
About MAM Ramaswamy
MAM Ramaswamy was born on 30 September 1931 into a respected family in the Nattukottai Chettiar community which is also known as The Rajah Family.
He was famously known as MAMR in political, business and sports circles.

Industrialist

:

As co-founder and chairman Chettinad, he was credited for steering the group as one of South India's famous business conglomerates.

Political career

:

He was a politician from Janata Dal (Secular) party. He was a Member of the Parliament (MP) in the Rajya Sabha and had represented Karnataka.

Sports

:

He was an avid horse race enthusiast and had won 600-odd horse racing events.

He was also the first person to enter the Guinness Book of World Records for winning 100 horse racing Classics.

Awards and Honours

:

He is recipient of Padma Shree.