PM Narendra Modi inaugurates Brahmaputra Cracker and Polymer Limited
Prime Minister
Narendra Mod
i has inaugurated the
Brahmaputra Cracker and Polymer Limited
(BCPL) at Lepetkata, Assam and dedicated the facility to the nation. It is the first ever petro-chemical plant located in the entire North-Eastern region of Indian. It has been built at cost of 10000-crore rupees and shall be producing raw material for manufacturing plastic. Prime Minister also dedicated wax producing unit in Numaligarh Refinery Limited to the nation. It is India's highest wax producing unit and shall be using indigenous technology.
International Fleet Review 2016 kick starts in Visakhapatnam
The International Fleet Review (IFR) 2016, an international military exercise hosted and conducted by Indian Navy was inaugurated in Visakhapatnam, Andhra Pradesh. Theme of this edition on IFR is "United through Oceans" and its objective is to enhance mutual trust and confidence with neighbouring navies by inviting their ships to participate in the event.
Total 11,000 guests are expected to attend the mega naval exercise including members of foreign delegations. It is perceived to be the biggest exercise conducted in India so far. Naval ships from 50 countries and various dignitaries will also participate in the event and close to 4000 sailors have participated in the fleet review.
12th South Asian Games begins in Guwahati
The 12th edition of South Asian Games (SAG) has begun in Guwahati, Assam after it was inaugurated by Prime Minister Narendra Modi at the Indira Gandhi Athletics Stadium. The 11-day event is being jointly hosted by Guwahati and Meghalaya capital, Shillong. Over 2,500 athletes from 8 SAARC nations viz. India, Pakistan, Sri Lanka, Bangladesh, Afghanistan, Nepal, Bhutan and the Maldives are participating in it. Total of 228 events in 23 sports disciplines will be played during the games, which India is hosting for the third time. Slogan of games: 'Play for Peace, Progress and Prosperity'.
US Astronaut Edgar Mitchell passes away
United States (US) Astronaut Edgar Mitchell passed away Lake Worth, Florida under hospice care. He was 85. He was the sixth man to walk on the Moon. He had spent more than nine hours on the Moon's surface in the Fra Mauro Highlands region as part of the Apollo 14 mission in 1971.
Noted Political Cartoonist Sudhir Tailang passes away
Famous political cartoonist Sudhir Tailang, passed away in Gurgaon, Haryana after battling with brain cancer for a long time. He was 56. He was known for his political cartoons that chronicled contemporary Indian politics with wit and humour.
In 2009, he had published book of cartoons titled "No, Prime Minister" which carried cartoons on Manmohan Singh drawn during first stint of his Prime Ministership.
He was awarded Padma Shri (2004), India's fourth highest civilian award for his contribution to the art of cartooning.
Project Sunrise launched for prevention of AIDS in NE states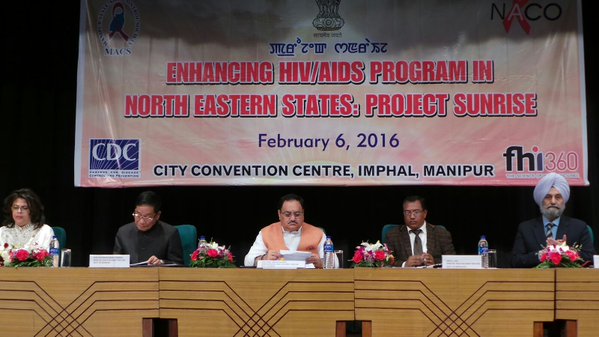 Union Minister of Health and Family Welfare J P Nadda has launched Project Sunrise on for prevention of AIDS specially among people injecting drugs in the 8 North-Eastern states. The AIDS prevention special project aims to diagnose 90 per cent of such drug addicts with HIV and put them under treatment by 2020.
North Eastern States like Manipur, Nagaland and Mizoram account for highest adult (15-49 years) HIV prevalence in the country. National average for prevalence of HIV/AIDS among drug addicts is 7.14%, whereas in Manipur it is 12.9% and in Mizoram it is 12%.
Singer-songwriter Dan Hicks passes away

Renowned American singer-songwriter Dan Hicks passed away after a two-year long battle with throat and liver cancer. He was 74. He was known for his traditional mix of folk, jazz and country music. He was known as the frontman of the acoustic band Dan Hicks and His Hot Licks.
His last album was Live at Davies which was released in 2013 to cap over forty years of music career. Some of his famous songs are I Scare Myself, Canned Music and How Can I Miss You When You Won't Go Away?.