· The Cabinet on Wednesday approved the terms and conditions for the transfer of 12 acres of land belonging to National Textile Corporation to the Maharashtra government for the construction of a memorial of B.R. Ambedkar.
· "The Union Cabinet had already approved the transfer of 12 acres of Indu-6 Mill land to the government," the government said in a release.



Cabinet approves Motor Vehicle (Amendment) Bill 2016
· Union Cabinet has approved Motor Vehicle (Amendment) Bill 2016 to improve road safety in the country.
· The bill proposes to increase penalties against traffic violations to as deterrent measure.
· It also has stricter provisions for offences like juvenile driving, drunken driving and driving without licence.
· An official release said, compensation for hit-and-run cases has been hiked from 25,000 rupees to two lakh rupees and in case of fatality it will up to 10 lakh rupees.
Finance minister to inaugurate India International Footwear Fair 2016
· The Finance Minister, Shri Arun Jaitley will inaugurate the 2nd edition of India International Footwear Fair (IIFF) - the premier specialised B2B event of the India Trade Promotion Organisation (ITPO) and Confederation of Indian Footwear Industries (CIFI) on August 5, 2016 at Pragati Maidan, New Delhi.
· IIFF (August 5-7, 2016) is being organised with support of apex bodies including the Council for Leather Exports (CLE), Central Leather Research Institute(CLRI), Indian Shoe Federation (ISF), Footwear Design and Development Institute (FDDI) and Indian Footwear Components Manufacturers Association (IFCOMA) and Indian Finished Leather manufacturers' Association (IFLMEA).
· This year, as many as 263 leading companies from India and abroad are participating in the fair. These include over 160 Indian companies and 103 overseas from Brazil, China, Iran and Taiwan. China's group participation is represented by Wenzhou Donnor Exhibition Group, G&F Co. and Splendour Exhibition Group.
Cabinet approves signing of Air Services Agreement between India and Lao PDR
· The Union Cabinet chaired by the Prime Minister Shri Narendra Modi has given its approval for signing of new Air Services Agreement (ASA) between India and Lao People's Democratic Republic (Lao PDR).
· The Agreement is expected to spur greater trade, investment, tourism and cultural exchange between the two countries bringing it in tune with the developments in the civil aviation sector.
· It will provide enabling environment for enhanced and seamless connectivity while providing commercial opportunities to the carriers of both the sides ensuring greater safety and security.
· Under the agreement, the designated airlines of the two countries shall have fair and equal opportunity to operate the agreed services on specified routes.
· The routes and frequencies shall be decided subsequently. ASA is the basic legal framework for any air operation between the two countries.
WEF India Economic Summit in Delhi on October 6-7
· World Economic Forum (WEF), will host its annual India Economic Summit here on October 6-7 which would be attended by over 500 business and political leaders including top policymakers and CEOs.
· This year's meet will be convened under the theme, 'Fostering an Inclusive India through Digital Transformation'.
· "This year's summit comes at an important juncture as India is the fastest-growing G20 economy just as the world is entering the Fourth Industrial Revolution," said Viraj Mehta, Head of India and South Asia at the WEF.



RBI launches 'Sachet' portal to rein in illegal money deposits
· To curb illegal and unauthorised pooling of funds by unscrupulous firms, Reserve Bank of India (RBI) has launched a website, which will help people obtain information about entities allowed to collect deposits.
· Launching the portal -- sachet.rbi.org.in -- RBI Governor Raghuram Rajan said that initiating quick follow up and taking cases to logical conclusion by punishing the guilty is paramount to deter entities in future from carrying out unlawful activity.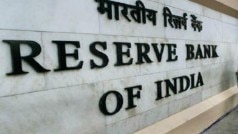 RBI imposes penalty on 2 Chhattisgarh cooperative banks
· Reserve Bank today imposed penalty on two cooperative banks in Chhattisgarh under the Banking Regulation Act, 1949.
· "The RBI has imposed a monetary penalty of five lakh each on Zila Sahakari Kendriya Bank Maryadit, Raipur, and Raipur Urban Mercantile Cooperative Bank Limited," a statement from RBI's regional office here said.
· Zila Sahakari Kendriya Bank Maryadit was penalised for violation of the directives/guidelines of the Central Bank on 'Know Your Customer' norms.
Shubha Mudgal to get Rajiv Gandhi National Sadbhavana Award
· Singer Shubha Mudgal will be awarded the Rajiv Gandhi National Sadbhavana Award for her outstanding contribution towards the promotion of communal harmony, peace and goodwill.Shubha Mudgal is a well-known Indian singer of Hindustani classical music.
· The award will be presented to Mudgal at a special ceremony on August 20 at Jawahar Bhawan auditorium. The award carries a citation and cash award of Rs 10 lakh.
· Less than forty hours remain for the 31st Summer Olympic Games which are set to begin in the Brazilian city of Rio de Janiero.

· Although the Group stage of Women's Football got underway last evening, the Games will formally kick off with an opening ceremony at 4:30 AM Indian Time on Saturday.

· Known as the world's biggest sporting event, the creation of Olympics was inspired from the ancient Olympic Games which were held in Olympia, Greece from 8th century BC to 4th century AD.